Sunday, December 12, 2004
They Forgot The Strippers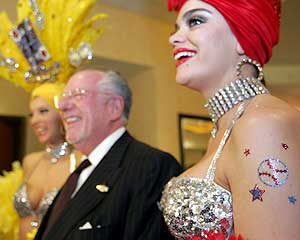 Vegas mayor Oscar Goodman showed up yesterday -- and yes, I did actually see this -- with showgirls and a 60's-era Elvis in tow prowling the halls at the Marriott. I figured it was some kind of publicity stunt, and sure enough,
it was
:
"We're the greatest spot in the world. What's better than that for major league baseball?" said Goodman, a showgirl on each arm and a spangled Elvis impersonator in tow. "I just know that Las Vegas and baseball is a natural marriage."
All they forgot was Pete Rose, and a few strippers.
Newer›
‹Older