Wednesday, April 06, 2005
Pickoff Moves, Lunchtime Edition
Uniform Erratum: What's In A Name?
Previously, in various places, I had said the NL required its players to sport names on the backs of their away jerseys as a matter of policy. Either it's been changed or the Dodgers are in violation, as this photo of yesterday's game (cribbed from the
Dodgers photo gallery
) makes clear: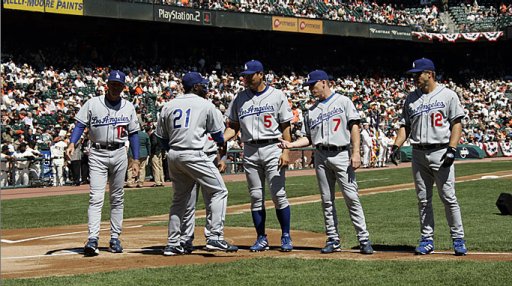 Tradition, schmadition, I want the names back on there, dammit.
Must Kill Moose And Squirrel
Thanks to those useful
Idiots
for pointing out
this Mariner conspiracy
, which provides the thought-provoking, Zen question, "When is a moose not a moose?"
GBL Answers The 2003 Expos With Traveling Japanese Club
Much ink has been spilt over the sorry fate of
nos amours
, the erstwhile Montreal Expos, now the Washington Nationals. Traveling from stadium to stadium, the Flying Dutchman of teams had no place to light, and hardly a hotel room to call home. The indy leagues, not wanting to be left out on such stuff, have come up with their own answer to this in the guise of the
Japan Samurai Bears
, an eighth traveling team in the Golden Baseball League. Comprised of 24 Japanese players, the team "will play all 90 of their games on the road but the league expects a significant fan following in each market and in Japan as well."
Of course, I'm being silly here; the real reason this is being done is because the only non-league-owned team, the Tijuana Toros, were forced to drop out of the GBL. It's an interesting experiment, and we should soon see whether such a team can be made to work. Good luck, guys.
Hometown Kid Makes His First Start In The Bigs
Stories like
this one in the Bellvue Leader
remind you of a simpler time, a time when ballplayers got screwed because of the reserve clause. Carlyle's presence on the Dodger club is tenuous at best, as has been his major league career. He knows this, and speaking as a fan, I hope he succeeds.
Comments:
Phooey on humanizing, and on tradition. It's harder for new baseball fans to figure out who's who when the player's names aren't on their jerseys. I just don't understand why some marketing guy hasn't run down the hall and explained it to someone in the front office.
Baseball needs to constantly recruit new fans. This sort of thing hurts that effort, and I can see no good that makes up for it.
Newer›
‹Older