Kendry Morales, Back In The U-S-S-A
Well, "back" is too strong a word; the Cuban's never been
in
the US so far as I know (evidence to the contrary gladly accepted, of course). But -- his
debut tonight
for the class A Rancho Cucamonga Quakes should prove interesting, maybe more interesting than the main event going on even now. "The 21-year-old has missed significant developmental time this season, but many believe Morales can advance through the system quickly." Is tomorrow too early? How about in time for the Boston series? No?
Update: Okay, Kendry's in his first game in the US. The Quakes are up against the Visalia Oaks, the high-A affiliate of the Devil Rays. Morales is 3-4 so far, homering in his first at bat and getting an unassisted double play at first.
His first game is the lead story on minorleaguebaseball.com.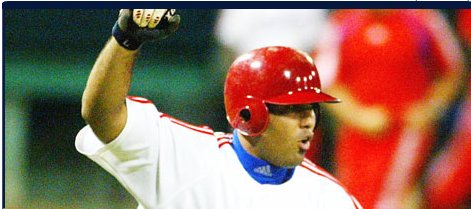 Go, Kendry!
Newer›
‹Older