Adam Dunn Scouting Expedition: Reds 7, Dodgers 6
So, what was the purpose of your expedition to Dodger Stadium?
To gather as much scouting data as possible on Reds left fielder Adam Dunn, a widely speculated-upon acquisition target for the Dodgers. Also, to meet with Dodger Thoughts commenters for the first time ever.
How would you describe the Dodgers' play?
Scrappy. Bad Reds fielding early on opened the game up -- or seemed to -- when an error by shortstop Felipe Lopez allowed the scrappy Oscar Robles to take first. Milton "Scrappy" Bradley then made a productive out by advancing the runner, and Jeff Kent doubled him home. Olmedo Saenz then hit a very scrappy homer to bring the Dodgers up 3-0. In the second, Jason Repko scrappily doubled, Weaver would single to make a productive hit, and Izturis knocked Repko home on a super-scrapalicious flyball to deep center. Aside from two more scrappy runs scored in the seventh, that was the scrappy end of the Dodgers scrappy play, the rest being merely scrappy minus the "s".
So, the Dodgers only scored four runs against Ortiz?
Yes. Ortiz, something of a gascan who's either been on or off throughout his career, got the boot from the Angels rotation last year, and yet the Dodgers basically didn't hit him much last night. Subtracting the three runs in the first -- all of which were unearned because they came on a second out that would have become a third out with Bradley's groundout -- Ortiz pitched his best game of the season with the Reds, giving up only one earned run in six innings of work. Kent clearly did his job, but Bradley still looked a tad lost at the plate, grounding out three times and only hitting a single, that against the Reds' bullpen.
So why did Tracy allow Weaver to stay in after it was clear he was running out of gas?
Well... given the results with the bullpen, wasn't it obvious?
Is the Reds bullpen worse than the Dodgers?
Oh, my heavens, yes. The Reds relief corps' collective ERA is 4.96, fourteenth in the National League, versus the Dodgers' 4.41 and ninth. But as we discovered, Ghame Over has more than one meaning. We must consider the epistemological consequences.
Did Our Lord And Savior Hee Seop Choi make a consequential contribution to the proceedings?
Of course -- are you mad? When not on the field providing a mighty single and scoring a run, Hee interceded with the Creator on behalf of the Dodgers to induce poor play, offline throws, and other mishaps against the Dodgers implacable foes. In fact, we attributed the Dodgers late collapse to Choi's absence on the field; perhaps he was in the bathroom.
It couldn't have been too effective: Ryan Freel stole five bases against the Dodgers! Where was Choi then?
We're not sure, but we do know that Choi does not answer all prayers.
Well, what of Adam Dunn, then?
Not so much. Two strikeouts and a groundout, but he did effect a single and score a run.
Pity. So, the night's efforts were a waste?
No, we got to meet each other for the first time. That was an unqualified success.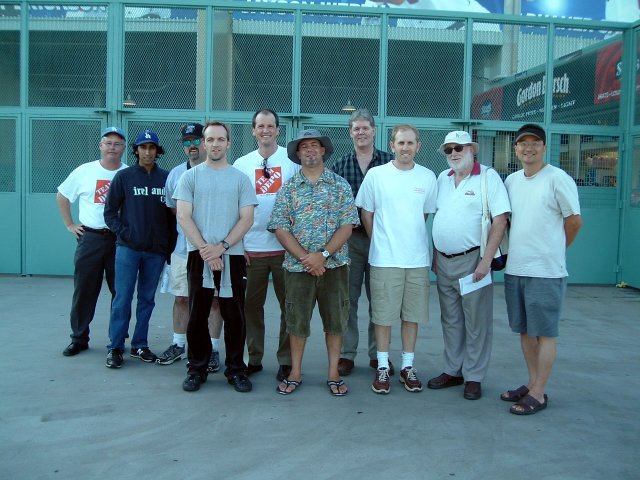 Left-to-right: Marty, Vishal, yours truly, Icaros, Clay Landon (aka Suffering Bruin), Julian (?) , Jim Hitchcock, Brian (bigCPA), Don Burns (d e burns), and Roy (ddger).
Update: By the way, Roy, I have your sunglasses.
Comments:
Vishal: right? I was in the middle of correcting those names when I realized that your description was directionally challenged.
I also want to apologize for all the muffleflug names above, but everbody left before I had a chance to get the names down for posterity. All corrections welcome, of course.
Newer›
‹Older