OT: "Fat Chicks", Unite
A man of dubious taste whose current job requirement involves the ability to waggle a thumb up or down
wails about the assaults outside a movie theater
:
Chunky women in their underwear have surrounded my house.

Billboards of chunky women, that is. If you've been downtown lately, you've no doubt noticed the ads for Dove soap, featuring regular-sized women in bras and panties. It's part of a nationwide "Campaign for Real Beauty," and it's drawing waves of attention from the media. ...

There's no doubt the ads are attention-getting. Let's put it this way: this is the first time in 3,000-plus columns that I've ever mentioned Dove soap.

Now here's where I'm supposed to say that I find it refreshing to see "real people" on billboards, given that our culture is so obsessed with youth and beauty, and that most billboards feature impossibly gorgeous, ridiculously thin women who have been airbrushed to a level of perfection that 99.9 percent of the population can never reach.

But the raw truth is, I find these Dove ads a little unsettling. If I want to see plump gals baring too much skin, I'll go to Taste of Chicago, OK? I'll walk down Michigan Avenue or go to Navy Pier. When we're talking women in their underwear on billboards outside my living room windows, give me the fantasy babes, please.
As
Catallarchy
asked, "just who are these portly princesses making Roeper's life hell?"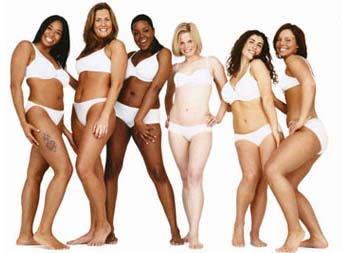 Roeper's cattle herd
These things have been all over the damn place lately, especially in LA around Hollywood. Sure, Sam Ryan looks hot on the teevee an' all, but you see her in person, you wanna feed her before she passes out. Ditto for any woman with the unfortunate craving to make her way in this world on the opposite side of the camera. I find Dove's campaign refreshing, and more, overdue.
Newer›
‹Older