Wednesday, December 20, 2006
OT: Creation's Brilliant Glow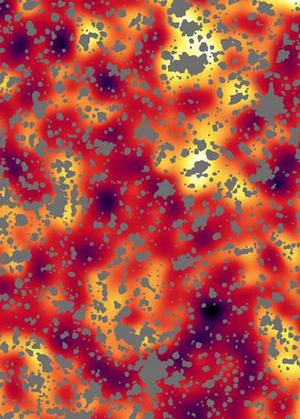 Creation's brilliant glow
This
is incredibly cool:
New observations from NASA's Spitzer Space Telescope strongly suggest that infrared light detected in a prior study originated from clumps of the very first objects of the Universe. The recent data indicate this patchy light is splattered across the entire sky and comes from clusters of bright, monstrous objects more than 13 billion light-years away.

"We are pushing our telescopes to the limit and are tantalizingly close to getting a clear picture of the very first collections of objects," said Dr. Alexander Kashlinsky of NASA's Goddard Space Flight Center, Greenbelt, Md., lead author on two reports to appear in the Astrophysical Journal Letters. "Whatever these objects are, they are intrinsically incredibly bright and very different from anything in existence today."

...

The analysis first involved carefully removing the light from all foreground stars and galaxies in the five regions of the sky, leaving only the most ancient light. The scientists then studied fluctuations in the intensity of infrared brightness, in the relatively diffuse light. The fluctuations revealed a clustering of objects that produced the observed light pattern.

"Imagine trying to see fireworks at night from across a crowded city," said Kashlinsky. "If you could turn off the city lights, you might get a glimpse at the fireworks. We have shut down the lights of the Universe to see the outlines of its first fireworks."
Hat tip:
Reason
.
Newer›
‹Older