Pickoff Moves
Today's Birthdays
Jim Eppard CAL b. 1960, played 1987-1989
Hy Myers BRO b. 1889, played 1909, 1911, 1914-1922, d. 1965-05-01
Frank Wurm BRO b. 1924, played 1944, d. 1993-09-19
This Is Dedicated To The Juan I Hate: Giants 5, Dodgers 4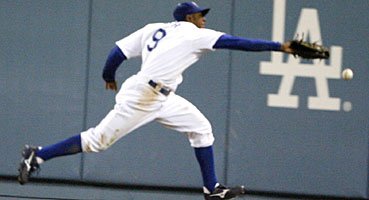 It's hard to tell, at times, which tall-dollar offseason centerfield contract is worse, Juan Pierre's or Gary Matthews, Jr.'s, though I'm rapidly coming down on Pierre. In yesterday's game, with the score tied 3-3 in the top of the fifth, Joe Beimel was up and facing the meat of the Giants' somewhat depleted order, meaning Vizquel-Klesko-Bonds. Earlier in the week,
Jon wrote
of Beimel that the Dodgers had better options, noting that he had faced 24 right-handed batters and allowed a .748 OPS against. That number's now
up to 28 righties with a .348/.407/.478 line and an .885 OPS
.
Now, let us not diminish what Beimel did last night; getting Barry Bonds to hit into a double play with men on the corners was nothing short of impressive. For third baseman Wilson Betemit to hold Vizquel on third while completing the double play was astonishing. As Vin Scully pointed out during the game, a veteran like Vizquel should have dashed down the line toward home hoping to draw the throw rather than allow a double play.
So it seemed briefly as though Beimel might actually get out of that jam. But facing another righty in Ray Durham, you'd think that Grady Little would pull Beimel in favor of someone who can get right-handed batters out. No such luck, so when Durham launched one into the gap, things started looking pretty bleak. Juan Pierre came thisclose to saving the day with an inning-ending catch, but instead of taking a straight line to the ball — and this is according to Vin Scully's stereoscopic account, not my review on the DVR — Pierre broke first to the warning track and turned and ran laterally. The net result was that his glove kissed the ball, pushing it away from him and ensuring the Dodgers would give up at least one run.
Grady continued to let Beimel self-immolate by letting him face Benjie Molina, another righty, who drove Durham in on an RBI single. So sure, Pierre should have caught that ball. He should have taken a better route to it, but he's incapable, possibly because he overestimates his own speed, or because he just doesn't know how. But Little had no reason to leave Beimel in there for one more right handed batter.
(Update: I misread the Yahoo play-by-play; Molina faced Broxton, not Beimel. The net result is to put more emphasis on Pierre's screwup in the outfield — and one I had forgotten, a blown suicide squeeze in the second that resulted in Andre Ethier turning into a dead Anas platyrhynchos. Recalling it now, Pierre looked completely baffled by the call, as though either (a) he had missed or misinterpreted the squeeze call, or (b) third base coach Rich Donnelly had failed to give it. Either way, he turned a men-on-the-corners, one out rally for the Dodgers into a two-out, man at second situation from which Russ Ortiz fairly easily wriggled free; and on the other side of the bill, he turned a man-on-third, two outs situation into an extended rally for the Giants. There's no way of telling how many runs the former cost the Dodgers, but since Jeff Kent singled in his next at bat, it could easily have been at least one run.)
As it turned out, that was the difference in the game. Andre Ethier homered in the eighth, a two-out solo shot that could have tied things up. (Update: as Capital Dodger correctly mentions in the comments, it would have actually amounted to a victory, since a successful catch by Pierre ends the Giants' rally and the inning.) As bad as Pierre was yesterday, I'm more inclined to send a bouquet of wilted flowers to Grady. Hang Pierre Now!
Roster Notes
I hate it when guys compare young players to Hall of Famers, because it almost never works out.

"I played against Mike Schmidt when he was a superstar," said Scioscia. "When he first came up, I think there are a lot of parallels between what I heard being talked about Mike Schmidt as a young player and what Brandon Wood is going through.

"Mike Schmidt became a guy who developed a great eye at the plate. His walks went up and his strikeouts declined, and he wound up hitting over 500 home runs and wound up in the Hall of Fame.

"I'm not making a comparison to put Brandon in that elite group of being a Hall of Famer, but what I'm trying to say is that there are many indications of guys who have had great potential, but their strikeouts in the Minor Leagues have curtailed their careers. But Brandon is doing well to cut down on his strikeouts and increase his walks and develop a good eye. And hopefully this experience here will help further."

At least one of his teammates is, uh, skeptical:

"There goes 'Franchise,' " the reliever said half-jokingly as Wood walked past Oliver's locker a few hours before making his major league debut against the Tampa Bay Devil Rays at Angel Stadium.

Matt Hensley and Phil Seibel will undergo season-ending surgeries, Hensley on his right elbow and Seibel on his left forearm. Seibel was the return in the trade that sent Brendan Donnelly to the Red Sox.
There is no timetable for Jason Schmidt's return. "Weeks could turn into months", writes Ken Gurnick. Every day with Mark Hendrickson in the rotation seems like a week by itself. Seven days will pass tonight as Mark Hendrickson will get the start against San Diego.
Hong-Chih Kuo will pitch for Las Vegas on Sunday.
Sammy Sosa is now an everyday player, according to Texas manager Ron Washington. Love that .239 average.
Felix Hernandez is on track for a May 4 return against the Yankees.
Labels: angels, dodgers, giants, injuries, recaps
Comments:
Not only is Mike Scioscia optimistic about Brandon Wood's future, but he's optimistic about Jered Weaver's future, too:
'Before the game in which the Angels wound up 9-5 losers, Mike Scioscia was discussing Weaver in reverent tones.
'"I think Jered will win a Cy Young Award one day," said the Angels' manager. "He has the makeup and the pitches to do it."'
http://www.presstelegram.com/krikorian/ci_5753021
Newer›
‹Older