Fathers Of Disaster: Mariners 12, Angels 5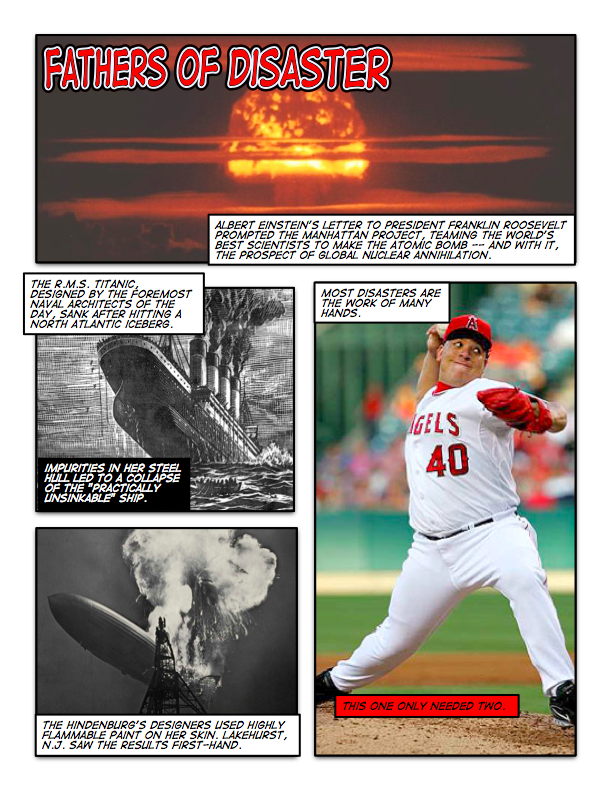 Update: Incidental notes:
Reggie Willits' 2-for-4 game was his first multi-hit outing since his May 18 game against the Dodgers.
Beltre may be warming up some; he homered in Sunday's game off the Royals' Odalis Perez. It represents only the third multi-homer game he has had wearing a Mariners uniform, the other two being July 2, 2005 against the Rangers (off C.J. Wilson and John Wasdin), and August 22, 2006 against the Yankees (off Jeff Karstens and Ron Villone). Beltre had 10 games with two homers for the Dodgers, seven of them in his career year of 2004.
Colon on his arm:

"I feel good, but my arm is tight," Colon said, pointing to a spot just above his right elbow. "It's not an excuse -- they hit the ball hard. It's not pain, I just can't get loose. The tightness started when I was in the bullpen. It was the same for the whole game."

Mike Napoli's hitting streak extended to 14 games with a single... however, he did not score a run, breaking a ten-game streak where he had scored a run and gotten a hit.
Casey Kotchman's streak of 115 error-free games at first ended with a seventh inning throwing error.
Nathan Haynes, called up Sunday to replace Tommy Murphy on the 25-man roster (and about whom, more later), got his first major league hit in his first major league at-bat, a pinch-hit appearance to lead off the bottom of the ninth in Reggie Willits' leadoff spot. Go Nathan!
Recap
•
Yahoo Box
Labels: angels, mariners, recaps
Newer›
‹Older