Wednesday, September 26, 2007
Pickoff Moves
Comatose: Rangers 3, Angels 1
The junior varsity squad showed up for this one, and with predictable results. Dustin Moseley pitched pretty well, but Darren Oliver took the loss, deservedly, for pushing the tying run across on a balk with men on second and third. Jeez.
NL Races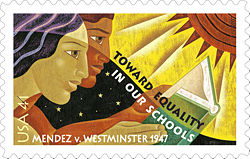 OT: How Desegregation Should Have Gone Down
Brown v. Board of Education
is the much more famous case; eventually it led to the
Little Rock Nine
and the jackass Orville Faubus riling up the easily stirred. But Westminster, the city across the street from the one in which I grew up, provided a far less stressful example of how to deal with integration, and now the Postal Service is issuing a commemorative stamp for
Mendez v. Westminster
, one of the rulings that paved the way for
Brown
. No dogs or firehoses necessary.
Labels: angels, brewers, cubs, diamondbacks, dodgers, mets, nationals, offtopic, padres, phillies, rangers, recaps, rockies
Newer›
‹Older