Grain And Glory: Dodgers Photography Exhibit At LAPL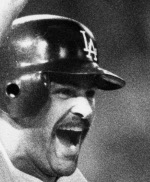 She is gone!
David Davis of the LAPL writes me with the following missive:
I'm writing to alert you to the upcoming photography exhibit at the Los Angeles Public Library: "Play Ball! Images of Dodger Blue, 1958-1988" opens on July 12th and runs through November 9th in the Central Library's first floor galleries. (No opening reception is scheduled.)

Like the previous exhibit that I curated ("Play By Play: A Century of L.A. Sports Photography, 1889-1989"), the Dodgers exhibit draws exclusively from the LAPL's historic photo collection. Most of these photos are from the archives of the now-defunct Herald Examiner newspaper (which shuttered in 1989); many of these images haven't been seen since their original publication in the newspaper.

"Play Ball!" traces significant Dodgers stories, including the team's arrival in 1957, Wally Moon and baseball at the L.A. Coliseum, Sandy Koufax, Don Drysdale, Walter O'Malley and the battle over Chavez Ravine, Roy Campanella, Vin Scully, Jaime Jarrin, Maury Wills, James Roark's Pulitzer Prize-nominated photograph of Rick Monday's rescue of the American Flag, Tommy John surgery, Andy Messersmith and the advent of free agency, Garvey-Lopes-Russell-Cey, Dusty Baker and the first "high five," Fernando Mania, Al Campanis, Orel Hershiser, Kirk Gibson, and more.

On a related programming note, team historian and author Mark Langill will give a noontime "Photographer's Eye" talk about the Dodgers on Wednesday, August 13.

Here are links, including a press release about the exhibit, sample images from the exhibit, and a press release about Mark Langill's "Photo Eye" talk:

Exhibit press release (PDF)
Exhibit home page
Press release for Dodger Historian Mark Langill's lecture

Thanks for your time -- now it's time to "Play Ball!"
Thanks much for that, David!
Labels: dodgers, history, photos
Newer›
‹Older