Tuesday, September 09, 2008
Wood And A-Rod Change Places For A Day: Angels 12, Yankees 1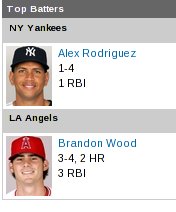 Players of the game
Despite a bench-clearing brawl started by Pudge's swipe at Torii Hunter (both players were ejected but later made up), the real highlight of this game was Brandon Wood having the best game of brief major league career, crushing a pair of homers over the left field fence. In all, the Angels pounded four longballs, the other two by Vlad and Sean Rodriguez, cruising to a 12-1 laugher over the Yanks. So great was the Angels' lead that not only did Jon Garland get the win (in one of his best outings to date, limiting New York to only a single earned run over seven innings), but Mike Scioscia felt comfortable enough sending Kevin Jepsen and Darren O'Day to finish things.
Jepsen, called up on Saturday after the Bees were eliminated from the AAA postseason, performed admirably, as did O'Day; neither pitcher allowed a man to reach, and O'Day struck out two of his opponents.
The high scoring made it look like the game might have been a blowout against the starter, Carl Pavano, but Pavano actually did well through five innings, giving up only a pair of runs, the second Wood's first homer. He then imploded in the sixth, plunking Figgins, and eventually surrendering a groundout RBI to Mark Teixeira. That brought in the previously quite effective Dan Geise, who Vlad crushed for a two-run shot that left Pavano with five earned runs on the day. Wood even got an RBI single that inning as if to say, "Hey, I'm not just a three-true-outcomes guy!"
With the Rangers idle, the Angels' magic number goes down to two. Tampa Bay lost 3-0 to the Red Sox, so the Angels own the best record in baseball. They could conceivably clinch as early as tomorrow, though I'll be out at the Hollywood Bowl if they do, checking my phone nervously the whole time.
Update: Alex Belth also recalls that Yankees pitching coach Dave Eiland fainted in the dugout after the scrum. He walked to the opposition clubhouse after the incident, but nobody knows why he collapsed.
Labels: angels, recaps, yankees
Newer›
‹Older