Self-Restraint
Commenter William in the comments on a
previous post
asked whether Lowe's wife is indeed named Trinka. It's absolutely true. Here's a picture of them together in Fenway after the Sox won the World Series: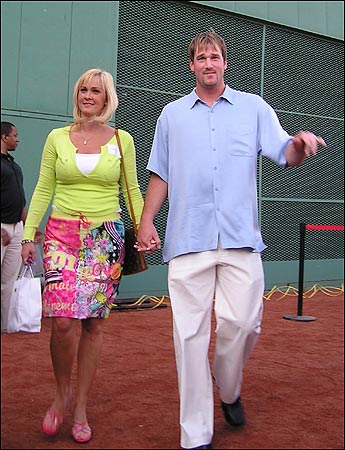 I was going to make a snarky comment a la the one I made for Scott Erickson and Lisa Guerrero, but with the situations somewhat reversed. Yes, it's true that Mrs. Lowe isn't exactly my taste (ahem!), but I'll refrain from saying too much now that Lowe's got a 1.27 ERA in four starts and 28.1 IP. God knows the Dodgers need him more than we need to look at his wife. Besides, you can't do much better than saying, "I just want you guys to know it's going to be Jackie Robinson Day every day I pitch from now on." Hell yeah!
Comments:
I guess I'd take the win anyway. She's so ... wholesome. (Actually, she resembles my sister a bit.) Now,
Mrs. Kris Benson
... sure, she's hot'n'all, but she scares the crap outta me. For some reason, she reminds me too much of a better-looking version of the Glenn Close character in
Fatal Attraction
.
Newer›
‹Older