Pickoff Moves
The Urge To Outrage The Ladies' Aid Society
Yard Work
AKA
Baseball Tonight
got into it for Hee Seop Choi
recently, garnering enthusiastic endorsements from
FJT
and
Concerned But Powerless
. It's funny, to a point, but their profanity-laced writing reminds me too much of Eddie Murphy's less-than-comic triumphs; Tourette's Syndrome might work as a punchline, but it's painful in real life, and merely tedious as style.
Update: Touched a nerve, did we? And to think, a year ago the Dodgers blogiverse was such a quiet place.
OT: Promotional Stuff I Get, #302 In A Series: Devil Ducky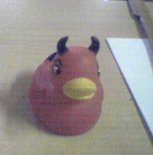 Devil Duck
I have no freaking idea what company it's for. None. One of those completely forgettable dot com company names that tells you zero about the company. The word "fire" appears somewhere in their name. Did any of those companies survive through handing out brilliant marketing goodies to potential customers? I doubt it, but I
loved
this one. (In the large image [what you get if you click on the one to the right], you'll see a Dodgers coke insulator for scale.)
Speaking Of Funny
Idiot
Philip Michaels has silly things to say about Red Sox pitcher David Wells, but the best part is his updated Colonel Kurtz monologue at the end. And no, he doesn't remind me so much of
this guy
as
this guy
. Expect the goggles to appear any day now.
OT: Customizable Google
Google is starting to put together a
customizeable version
, not unlike
My Yahoo
. My Yahoo is still way cooler, of course, but I expect Google will give 'em a run for their money.
Comments:
Good point about rampant profanity -- for the record, I found the plaintive wails of "Hee Seop" far funnier than "Jim Tracy's" rejoinder. Overall, though, the profanity binges are relegated largely to "Larry Bowa" and a few others. It's the site's spot-on parodies of writers of varying degrees of competence (like Gregg Easterbrook, Peter Gammons, Dan Shanoff, and the real BBTN crew) that really crack me up.
Newer›
‹Older