Night Of The Living Rookies, Part 1: Angels 4, Yankees 1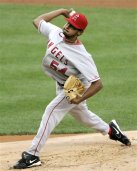 Ervin Santana
Last night's win was
Santana's first road win on the year
, and so we tip our caps to the young
Señor
from the Dominican. He wouldn't have done it without some wonderful plays in the outfield behind him, and yet neither was he dazzlingly brilliant, plunking two batters, walking two, and surrendering six hits; but that win feels good, no less for it being in the hallowed of halloweds, Yankee Stadium.
As always, any power displays by the Angels are welcome, and two dingers in one night qualified for sure. Vlad's 2-4 night was his second multi-hit game in a week, but only the third one this month; it's a positive sign, though. As I said yesterday, the day/night splits gave the Angels a chance. Thank Heaven.
Before I finish, I wanted to bring up one point here, an itch I couldn't quite remember to scratch. Some days ago, Stephen Smith made a plausible explanation for Orlando Cabrera's signing:
... Some blame Cabrera for the Angels' supposed offense woes, but Cabrera wasn't hired for his bat. He was hired for his glove. Cabrera is a major upgrade defensively at shortstop for the Angels.

Quite frankly, I think Cabrera deserves some credit for the overall excellent performance by the Angels' pitching staff. Although it's a misleading stat, Cabrera leads AL shortstops in fielding percentage at .987. He's second in Zone Rating at .857, which is defined as "The percentage of balls fielded by a player in his typical defensive 'zone,' as measured by STATS, Inc." Compare those numbers with David Eckstein at St. Louis, who has a .975 fielding percentage and .795 Zone Rating.
Cabrera, who hit second in last night's game, is a superior fielder to Eckstein, it's true. But let's look at several alternatives here (Rate2 and EqA from 2005, except for Amezaga, for whom I use 2004):
Okay, so here's the question: if you're hiring based on the glove, which of these three guys do you choose? The answer has to be Amezaga; he's better than any of the other two guys on this list and he's practically free. The reality, of course, is that he also can't hit, and hence he's playing for the Indianapolis Indians and not hitting very much there either. I find it very hard to believe that Bill Stoneman didn't consider the offensive output these three players would likely generate as a (if not the) overriding factor in the decision on who to pick up in the offseason. Unfortunately, he made a grievously wrong choice.
Update: The Angels now have prepended the sobriquet "stinkin'" in Yankeeland. Hee!
Comments:
what about macier izturis, who can hit and field. Im sure washington had him back. Stoneman should've game izturis the job at short and left cabrera and finley to someone else and use the money to sign beltran.
Newer›
‹Older