Regarding Alfred E. Stoneman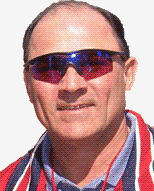 Alfred E. Stoneman
By way of responding to
Richard's call for trades
, I would ask, well, who do you get that's better? The Dodgers
simply refused to do anything
at the trade deadline, and face worse problems in their bullpen than the Angels. My question would be, who do you get and for what? Relief is clearly an issue, but the kind of pitchers the Angels need aren't available on any team. That's something DePodesta -- IMO in the class of GMs "smarter than Bill Stoneman" -- recognized and therefore held off on.
Second, Bill Stoneman doesn't seem to make trades because he's not successful at it. The call, therefore, to have him execute a trade to improve the team is a non-sequitur. The only one he's made that has been successful that I can remember is the Mo Vaughn for Kevin Appier trade. He certainly has done a bad enough job with his offseason free agent signings; Orlando Cabrera, until today (when he actually went 3-4 with a double) has been an offensive black hole the likes of which the team hasn't seen since Alfredo Amezaga who could have been had for free. I think Stoneman would make a great director of scouting, but he's a weak GM.
And that brings up my last point: who do you get to replace him? I suspect Sandy Alderson, former A's GM and now working in the Padres' front office as President, would be a good choice, but I expect that technically GM would represent a downshift from his current responsibilities. Maybe J.P. Ricciardi, if he gets fired from Toronto... but here I dream.
Update: Another thought: You could be stuck with a blowhard like Jim Bowden. He makes lots of trades...
Comments:
Maybe I'm easy to please, but a World Series, a Division Championship, and a likely second consecutive Division Championship (plus a decent shot at the Series), all while assembling (and not squandering) baseball's best minor league system, doesn't really strike me as a bad job.
Stoneman does a good job of letting people walk (Spiezio, Percy, Glaus, Ecstein ... Molina next year & probably Washburn, etc.), and using the money & draft picks pretty well. You've got too much invested in hating Cabrera to see the upside of having a terrific (albeit expensive) defensive SS, and push will definitely come to shove when the middle-infield minor league talent is ready for prime time (at which point I'm rooting for Wood to be switched to CF) ... but this is a deep, entertaining & successful team.
Too bad about the road trip, and I hope to Jeebus Finley never faces another left-handed pitcher, but I can't get behind the boo-hoo parade.
Newer›
‹Older