Tuesday, November 06, 2007
Pickoff Moves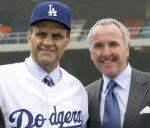 Joe Torre and Frank McCourt —
Best Friends Forever
Until The First Losing Season
Torre As Panacea
There's something about managerial changes that makes a lot of people lose their perspective on things. I don't expect much (anything, really) from
Bill Plaschke
— anyone who could pen Tommy Lasorda's
hagiography
leaves me questioning their sanity — so the clear, bright line for sportswriters is whether they understand this patently obvious fact.
Mike Waldner
in the
Daily Breeze
does:
The McCourt mantra is reconnecting with the tradition of the team.

Here, finally, they have hired someone who is up to and understands the task. Plus, he's won four World Series rings.

Except. Except? Except Torre is overrated. Overrated?

Definitely. As he himself knows better than anyone, he does not walk on water. He's not going to wave a fungo bat and suddenly the Dodgers will find themselves in the World Series. The young players need to grow. The roster should be tweaked.
Bill Shaikin of the Times
gets it, too:
It is just shy of four years since she and her husband, Frank, bought the Dodgers. The skepticism has yet to abate.

No one can question the McCourts' passion for Los Angeles, for the Dodgers, for victory. But they're still learning on the job, on their own, preferring to run the organization themselves than entrust it to an experienced sports executive.

So, on what should have been a glorious day for the Dodgers, too many questions revolved around credibility. The Dodgers employed one manager, Grady Little, while they searched for another: What did Torre know, and when did he know it? What about Ned Colletti, the general manager? What about the McCourts?

This is not the first time credibility issues have overshadowed personnel decisions. The McCourts inherited Dan Evans as general manager and said they would consider retaining him, followed minutes later by Jamie McCourt telling the Daily News, "When we get a GM . . . "
Though I do have to wonder about his suggestion that the McCourts hire
Ducks
GM Brian Burke, among others, as a new CEO. That's ... bizarre.
Dodgers VP Marty Greenspun Resigns
No replacement named
, and with a 12:40 AM dateline, too. Speaking of weird...
Roster Notes
Labels: angels, dodgers, managers, mariners, mccourts, red sox, transactions
Newer›
‹Older