Murphy, Upended: Angels 6, Red Sox 3
Jered Weaver bugs me endlessly, it seems; he can't get strike three across, he lets himself get into trouble constantly, and he never finishes off batters. That is, until yesterday evening (forgetting his amazing freshman effort). If you missed it, you missed what was probably Weaver's best outing in three years, a one-run performance that featured a total containment of lefty Goliath David Ortiz (though one of those was a lineout to short — ignore the box score, that was a hard-hit ball). The remaining lefties went only 2-for-10 against him with no (as in
zero
) walks, which is to say he did a phenomenal job containing one of his historical weaknesses. Add to that the fact that he racked up eight strikeouts, and you have yourself a recipe for a terrific start to the game.
In fact, Weaver's had 11 games with eight or more strikeouts prior last night — the most recent being his Sep. 23, 2008 game vs. Seattle — but you could argue that this qualifies as his strongest such game to date. Sure, he had a seven-inning shutout of Texas in Arlington, but that was his first year in the league when hardly anybody knew him. In fact, it was only the second time Texas had faced him that year; but credit where credit is due, anyway, and Weaver was just awesome. I don't expect every game will turn out like this one, and he'll have some clunkers, but my God, he only got into one really protracted battle, and that was against David Ortiz in the third with men on second and third. Even then, the best Ortiz was able to do against him was foul off a mess of pitches and hit a sac fly. I'll take that every day of the week and twice on Fridays.
Unbeknownst to me — and I was watching early — Weaver went out to the Adenhart logo in center field and tapped it before the game, for luck, or whatever. The mound itself, instead of carrying the Angels logo, had the number 34 written into it, and Weaver scratched out "NA" on the dirt himself before the game.
As for Tim Wakefield, the Angels were on and off hitting him, but mostly on in the second, when they did half of their damage. The Sox knuckleballer had some trouble from the all but dead calm wind conditions, getting into trouble hearly with two walks and a hit batter (Torii Hunter, fortunately with a knuckleball on the back). If not for the impatient Kendry Morales, the Angels might have knocked him out early, but Morales popped out to the catcher George Kottaras to end the threat.
Wakefield wasn't so lucky in the second, walking leadoff man Gary Matthews, Jr., making his first start of the year; Jeff Mathis singled him over to second, but then Maicer Izturis grounded out to Mike Lowell at third, who simply ran to the bag for the force. But then Wakefield failed to retire any of the 1-2-3 batters, with Chone Figgins getting his first extra-base hit of the season, and Howie Kendrick behind him knocking in two besides. It wasn't a great offensive performance, but it was good and more than enough to put the Angels over the top.
The Halos came close to knocking Wakefield out in the fifth, loading the bases without making an out to lead the frame off, but one again, Kendry Morales' impatience and/or inexperience with knuckleballers led to a fly out, and Gary Matthews, Jr. and Jeff Mathis both made outs to end the threat. Once Wakefield was out of the game, the Angels picked up another three runs in the seventh against Justin Masterson, whom they apparently flailed against as a starter but have subsequently knocked about in a relief role (he has yet to escape a game in relief in which the Angels haven't scored on him). Kendry Morales got a critical double, and Mathis singled in a pair with the bags loaded and one out.
One interesting bit at the end was seeing Scot Shields, who's lobbied previously for the closer role, being left in over Brian Fuentes after the latter's struggles in spring training and on the mound Wednesday. I have to imagine that really hurt Fuentes to some degree, losing a game for Adenhart, especially after a win would have doubled Nick's career win totals. That bit of unfinished business is going to burn for a long time.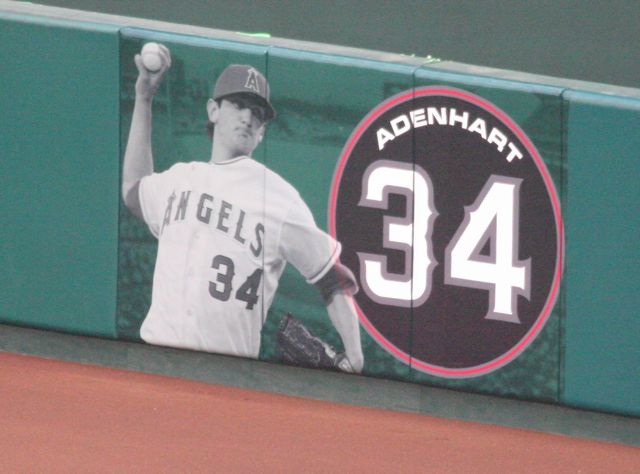 Labels: angels, recaps, red sox
Newer›
‹Older